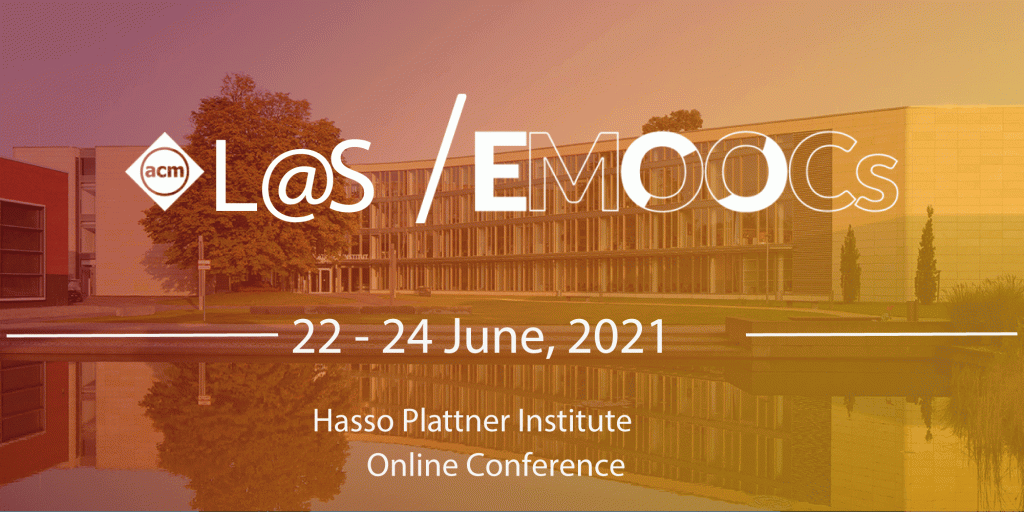 A New Normal in Digital Education:
Urgent Challenges and New Opportunities Created by the COVID-19 Pandemic.
All learning institutions have been forced to transform and redesign their learning methods, moving from traditional models to hybrid or complete online models at scale. This has shown clearly and rapidly, what already works in online education and what still has a ways to go. The learnings derived from praxis and research will be explored in this year's double conference within inspiring keynotes and interactive seminars, in order to shape the future of digital learning and set the standards for our new normal.
We are going double!
The seventh European MOOCs Stakeholder Summit (EMOOCs 2021) and Learning at Scale 2021 (L@S 2021) will take place as an online conference. You will be excited about the presented sessions and the networking possibilities.
EMOOCs 2021 x Learning@Scale 2021 – Double Conference Combining EMOOCs 2021 and Learning at Scale 2021 brings together international top-quality educational research with teaching practitioners, platform providers, policy makers, and educational businesses. We look forward to welcoming you to our "double" conference in June 2021!
Keynotes & Sessions You can look forward to an exciting program packed with keynotes, lively speeches, sessions and research talks from representatives from science, business, and politics. They will provide insights on the changing role of EU, what this means for MOOCs and the impact of digital learning in diverse environments.
Interactive Networking Whether via live chat or in our virtual Expo Rooms networking events, there are plenty of opportunities for great exchange and networking within the digital learning scene.
At Learning at Scale 2021 (L@S 2021) we invite contributions that address innovations in scaling and enhancing learning, empirical investigations of learning at scale, new technical systems for learning at scale, and novel syntheses of relevant research on these areas. Work from both formal and informal education environments at all levels is encouraged; L@S welcomes studies of higher education and informal adult learning.
EMOOCs 2021 will bring together experts in the area of MOOCs and e-Learning in general from all European regions. In total it features 6 tracks covering different aspects of this area and additional workshops.
The Future Track consists of panel sessions, invited talks, and vision statements from relevant, forward-thinking figures in the field of educational technology.
The Experience Track brings together diverse stakeholders to discuss important issues, such as best practices in MOOC production processes, quality assurance, certification, and credentialing.
The Policy Track will address the extraordinary potential of MOOCs in addressing European challenges related to the modernisation of higher education institutions as well as for coping with more general political and social issues, such as labour market challenges.
The Business Track will address areas such as business models for MOOCs, the role of academia vs. commercially driven companies, or the integration of MOOCs into company systems.
The Health Track will address the current potential and future challenges of MOOCs in the health sector. It invites submissions on health-related online learning opportunities and MOOCs that can be either experience-driven or technology-based.
The International Track will take a look beyond the European borders and and particularly encourages submissions that present initiatives from Latin America, Australia, Africa or Asia.
The Workshops aim to provide a forum for exploring and discussing emerging trends in MOOCs in a more participatory and informal way.